FORSUS™ Fatigue Resistant Device
Efficient, Reliable Class II Correction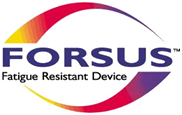 The Forsus Fatigue Resistant Device is used by Dr. Slutsky to advance a small lower jaw into a better bite, also called a Class II correction. Forsus helps to eliminate excessive overbites, improves the fit of teeth, may possibly prevent the need for jaw surgery.
Why Forsus?
One key aspect of Forsus treatment is that it requires minimal patient cooperation. For example, you do not need to take it in and out of your mouth. Once installed, it will work on its own without the need to wear elastics or bulky headgear.
The Forsus appliance is also more comfortable, with a low profile that does not bow into the cheek like other Class II correction appliances. Plus, it allows for a full range of motion so your speech and eating habits won't be affected.
You'll also be able to continue your oral hygiene habits as usual without having to worry about cleaning around a bulky appliance. As with any orthodontic appliance, hard and sticky food should be avoided and brushing is always recommended after every meal.
Forsus Treatment
While treatment times vary depending on the level of correction needed, most patients wear Forsus appliances for approximately four to 12 months. Once placed, you'll need to visit our Philadelphia or Bensalem orthodontic office so Dr. Slutsky can monitor your progress and adjust the device if needed.
A board-certified orthodontist with more than 30 years of experience, Dr. Slutsky provides exceptional treatment second to none. To learn more about Forsus treatment, schedule a complimentary consultation at our Northeast Philadelphia (Mayfair) office or our Bensalem, PA office.