Upper Jaw Palatal Expanders
Dr. Slutsky uses a palatal expander to widen a narrow upper jaw on pre-pubertal children. Once this is achieved, the teeth should fit better in the upper jaw. The palatal expander "expands" (or widens) the upper jaw by putting gentle pressure on the upper molars each time an adjustment is made. We will teach you how to activate the appliance during your child's appointment at our Philadelphia or Bensalem orthodontic office.
When the expander is first placed, Dr. Slutsky and our team will closely monitor your child's progress on a weekly basis. Once the expander is fully widened and turning is no longer necessary, we place patients on eight-week recalls to monitor the appliance. It takes approximately two to three weeks to widen the palate. The expander is then left in the mouth for six months to allow the palate to stabilize properly before it is removed.
Adjusting the palatal expander
You can also download these instructions in a printable PDF document.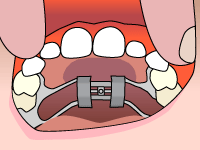 Step 1
In a well-lit area, tip the patient's head back.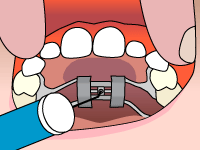 Step 2
Place the key in the hole until it is firmly in place.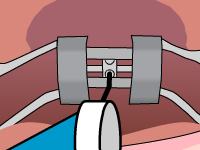 Step 3
Push the key toward the back of the mouth. You will notice the fender will rotate and the new hole will appear. The rotation stops when the key meets the back of the expander.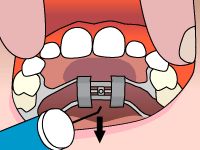 Step 4
Press back and down toward the tongue to remove the key. The next hole for insertion of the key should now be visible.